DAILY News
DAILY News is your customised ALSO Schweiz AG marketing platform, offering promotional offers, exciting information and an array of surprises.
Never miss any highlights again thanks to our newsletter
The DAILY News newsletter provides you with your own personal highlights delivered directly to your inbox. You can decide which topics interest you using the category selection.

Benefits to you
Newsletter articles are grouped together and sent to you in just one daily e-mail.
Customise your information. Define your areas of interest yourself and adapt and manage your newsletter account at any time.
Efficiency when ordering promotional offers thanks to direct links between newsletter, DAILY News platform and I-VIS.
All offers are clearly structured by the header navigation and available at any time during the entire promotional period.
Quickly gain an overview through straight-forward design and clear structures.
Browse the ALSO Update and the ALSO Software Guide.
The DAILY News platform is a hub for microsites and gives you an overview of bargains plus many more features.

Three great reasons for DAILY News
Promotional offers
Save money thanks to attractive offers and bargain lists
Information
Stay on the ball with product innovations and training courses
Surprises
There will always be different surprises waiting for you, ranging from sweepstakes and prize draws to an advent calendar and more.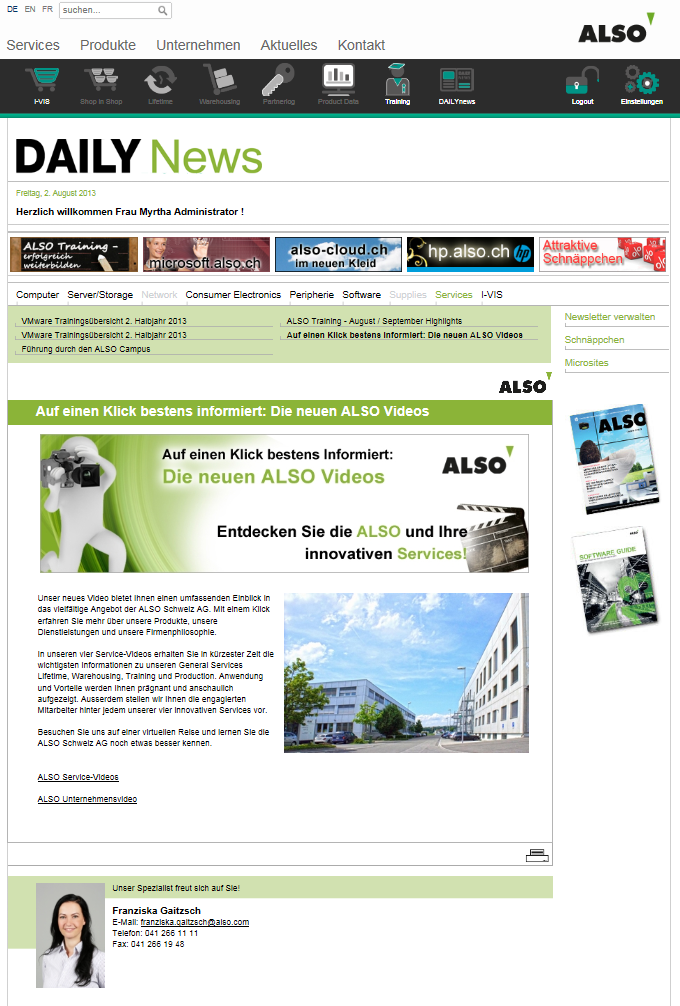 Registration
Stay up to date and sign up now for the DAILY News newsletter. * DAILY News newsletter available to ALSO Switzerland AG customers only.
Register now